Skip to content
Skip to navigation menu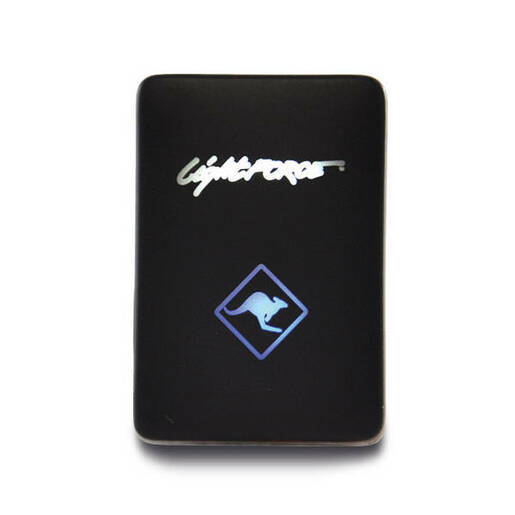 This OEM style switch feature the Roo logo and the Lightforce script for universal applications available for the following vehicles without any modification to the original dashboard.
On-Off Switch Suits Toyota 3 Amp Logo
Product Availability by Store Location
LightForce Switch to suit Toyota/Holden/Ford
The following vehicles can use this OEM-style switch, which has the Roo logo and the LightForce script, without modifying the original dashboard.
Compatible with the Toyota Prado 150, the Hilux starting with late 2015, and the 200 Series Landcruiser. As long as the LightForce switch fascia is used, the Ford Ranger PX MK2 and the Holden Colorado are also compatible.
Details:
When the switch is in the on position, the LightForce words and the Roo logo both glow in via the dash light circuit.
just one switch input
LED-based lighting
to suit only for automobiles with positive switches
Included harness measures 300mm in length.
3 amp current rating at 12 volts
The switch's maximum current rating at 12 volts is 3 amps, hence a relay must be used in addition to it.
VEHICLE COMPATIBILITY
MAKE
MODEL
COMPATIBLE FROM
COMPATIBLE TO
FITMENT LOCATION
Ford
Ranger PX2 (fitted with LF fascia)
2015
2018
Ford
Ranger PX3 (fitted with LF fascia)
2019
2021
Ford
Everest (fitted with LF fascia)
2015
2021
Holden
Colorado (fitted with LF fascia)
2017
2021
Suzuki
Jimny JB64W/JB74W
2018
2020
Toyota
200 Series (fitted with LF fascia)
2008
2021
Toyota
200 Series Landcruiser
2008
2021
Toyota
4Runner
2008
2020
Toyota
86 (Subaru BRZ / Scion FR-S)
2012
2020
Toyota
Camry
2011
2014
Toyota
Corolla
2006
2013
Toyota
FJ Cruiser (roof console only)
2011
2016
Toyota
Fortuner
2015
2021
Toyota
Highlander
2001
2007
Toyota
Highlander
2008
2018
Toyota
Hilux
2015
2021
Toyota
Kluger
2008
2019
Toyota
Prado 150
2010
2021
Toyota
RAV4
2006
2019
Toyota
Tacoma (Center Console Only)
2012
2020
Toyota
Tundra
2007
2014
Toyota
Landcruiser 79 (Plastic Dash) Series
2021
Right side of steering wheel
LightForce Switch to suit Toyota/Holden/Ford - CBSWTY2
Product Availability by Store Location