Skip to content
Skip to navigation menu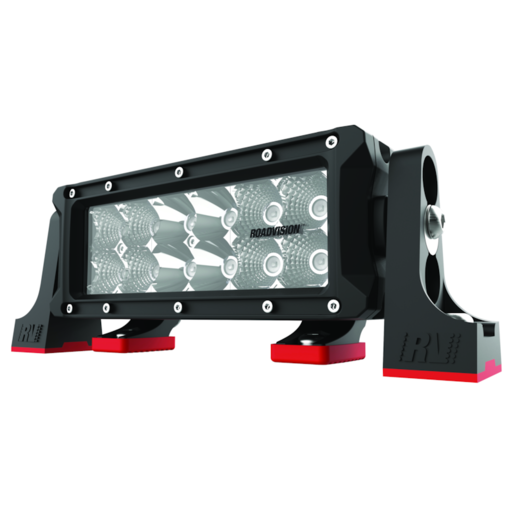 Multi-volts 10-30V.
Water & dust proof IP67.
Up to 10800lumens.
7 year warranty.
Product Availability by Store Location
The Roadvision DC2 Series are the next generation in dual row LED light bars. Producing up to a massive 25920lm of light output, the DC2 Series deliver brute power and intense light output with a perfect match of advanced optical design and 3W Osram Hi-Lux LEDs. Featuring the latest soft start, PWM dimming and advanced thermal management technology from Roadvision, the DC2 Series is available in combination beam patterns from 8" to 50" providing a perfect mix of forward penetration and roadside illumination. Supplied with both low profile adjustable slide mounts and Roadvision's new 9 position adjustable anti-vibration mounting system, the DC2 Series also features a new ultra slim 65mm deep housing providing greater mounting flexibility. The DC2 Series by Roadvision, brute power from the biggest bars in our line-up.
FEATURES
DC2 Series dual row LED bar lamps produce up to 25920lm of instant light output
Available in 8" to 50" models
3W Osram Hi-Lux LED's produce super white light close to daylight
Multi-volt 10-30V DC input & super low current draw
50,000 hour LED lifespan with solid state technology
Soft start, PWM dimmable & advanced thermal management technology
Light weight tough die-cast aluminium housing & polycarbonate lens
Water & dust proof IP67 rated
Simple 2 wire installation with Deutsch/ATP plug & optional plug & play dimming controller
9 position adjustable anti-vibration end mount system & low-profile slide mounts
Over/under voltage, reverse polarity protection & EMI/EMC radio interference approved
ACCESSORIES
Roadvison Bar Light Wiring Harness Kit RBWK
Roadvision LED Bar Light GEN2 HD Wiring Harness RBHDWK
Roadvision Airwire Remote Control Wiring Loom Kit RCWL
Roadvision Light Bar Dimmer Controller Next Gen RDIMG2

SPECIFICATIONS
Description DC2 Series 8" Bar 12 LED
Beam Type Combo Beam
Lumens Light Output (Effective) 3240lm
Beam Distance 382m
Total Watts 36W
Light Source 12x3 Watt Osram LED's
Voltage Input 10-30V DC
Current Draw Amps 1.8A @ 13.8V
Dimensions AxBxC 206x65x78.5mm
Bar Length 8" (206mm)
Wiring 2 Pin Deutsch Plug
Lux @ 10m 365 Lux
Meters @ 1 Lux 191m
Meters @ 0.5 Lux 382m
RoadVision DC2 Series Led Twin Light Bar 200mm - RBL5080C
Product Availability by Store Location