Skip to content
Skip to navigation menu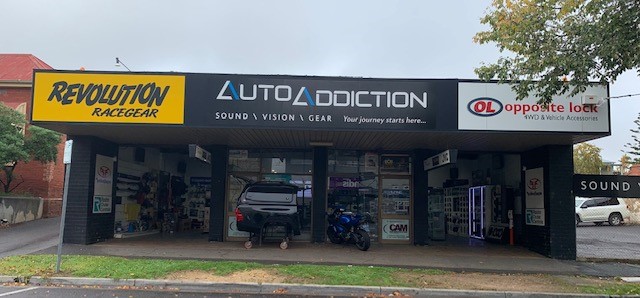 49 King Street , Bendigo, 3550
(03) 5441 5200
info@autoaddictionbgo.com.au
Please contact store for holiday trading hours
Opening Hours
Wednesday
8:00 am-5:30 pm
Visit Opposite Lock Bendigo today for all your 4WD parts and accessories. We also offer fitment services.
Offering a huge range of auto accessories for cars, boats, caravans, trucks, buses, motor homes, mobility scooters, excavators, and, well, let's face it, just about anything with a motor, Auto Addiction has firmly established itself as Regional Victoria's largest auto accessory sales and service one stop shop!
Formerly known as Bendigo Auto Sound, Auto Addiction began in Bendigo in 1995. Since current owner Damien Lacy took over the business in 2001, it has gone from strength to strength. From humble beginnings of installing basic car audio systems and auto electrics, Auto Addiction has grown its brand to include the Opposite Lock franchises. This has meant a wider range of high-quality accessories available to their customers for purchase and installation.
With over 50 years of combined experience in the auto electrical and car accessory industry and through years of building solid relationships with the major car yards in Bendigo, the Opposite Lock Bendigo team are not only passionate and professional but dedicated to delivering quality advice and a factory finish on all work. Serving our community with unwavering dedication for years, we take immense pride in offering an expansive selection of products from prestigious brands that have already won your heart and loyalty. Whether it's 4WD protection, in-car tech entertainment, batteries, or electrical equipment, we have everything you need for your 4WD adventure. Our friendly and knowledgeable staff is always available to assist you.
Opposite Lock Bendigo's customers can drive away confidently, knowing that any labour on electrical work is covered by a lifetime nationwide warranty and two years on Opposite Lock accessories. Our unwavering commitment lies in delivering the finest experience to you, and our exceptional 5-star reviews serve as a testament to our dedication to exceeding customer expectations. We go the extra mile to ensure our customers feel valued and heard, showcasing our relentless pursuit of customer satisfaction. Our mission is to provide you with the utmost care for your vehicle, offering the expertise of our highly trained technicians and utilizing the highest quality parts available in the market.